Helping Your Organization Succeed
We go beyond to implement practical solutions that deliver positive results.
We have first-hand experience solving major and minor financial, operational and administrative issues, and we bring practical solutions to the table.
We're more than just a consultant. We are industry experts on higher education and nonprofit systems and processes, and will work hand-in-hand with you and your organization's financial team to ensure they are implemented properly.
We will collaborate with your team to:
Identify the issues or problems your organization is facing

Define measurable objectives and deliverables

Develop a plan with clearly defined responsibilities and action items

Implement assessment and reporting measures to determine progress and adjust as needed

Communicate often with you and your team and conduct regular progress meetings

Succeed!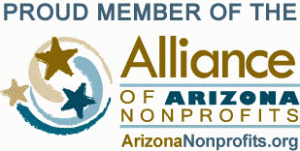 MS Wheeler Financial Services is proud to be a member of the Alliance of Arizona Nonprofits, providing valuable financial services to some of the area's leading nonprofits.
Founded in 2004, the Alliance of Arizona Nonprofits is a trusted resource and advocate for Arizona's nonprofit sector. Comprised of more than 800 partners across the state, both nonprofits and those in the community who support them, the Alliance is dedicated to furthering the common interests of Arizona's nonprofit community.